Welcome to The Worldwide Cancer Research Weekly Lottery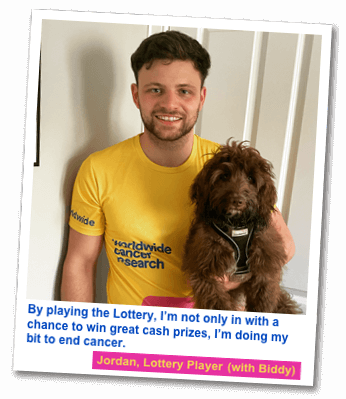 Playing our Weekly Lottery is a fun and exciting way to support cancer research and start new cancer cures around the world. Every £1 you play starts more new cancer research and helps stop the suffering caused by cancer.
By joining the Worldwide Cancer Research Weekly Lottery, you are helping us to back the most innovative ideas from researchers all around the world in their quests to find new ways to prevent, diagnose and treat cancer.
Enter now
Play to start new cancer cures - You could be one of our Weekly Lottery winners!
How does the Lottery work?
For every £1 entry you play, we'll allocate you a unique 6-digit number. Match three or more numbers in the right order and win one of our amazing cash prizes between £5 and £1,000. If you match all six numbers, you'll win the incredible top prize of £10,000!
You can play £1, £2 or £3 per week for more chances of winning. Simply click enter now to join by Direct Debit and ensure you never miss a draw. If you are one of our weekly winners, we will write to you and pay any winnings directly to your bank account – easy!
Play our charity Lottery today and become a Curestarter - ENTER TODAY
Every time you play our charity Lottery you are starting new cancer cures around the world. With cancer set to become the leading cause of death worldwide by 2030, we urgently need to support more cancer research. But we can't do it alone. With your help, we vow to keep funding more lifesaving cancer research projects into any type of cancer, anywhere in the world. We won't stop until cancer does.
ENTER NOW for your chance to win BIG every week!
Worldwide Cancer Research was founded in 1979. We're a small UK charity that searches the world for the most ground-breaking research to start cancer cures.
Jordan, Worldwide Cancer Research Lottery player (Photographed above with Biddy)
"I couldn't wait to sign up when I saw the launch of the Worldwide Cancer Research Lottery. Cancer is a horrible disease that affects every family. My grandad passed away when I was quite young, and I sadly didn't get the opportunity to get to know him like my brothers and sister did. By playing the charity's Lottery, I'm not only in for the chance to win great cash prizes, but I'm humbled to know that I'm also doing my bit to end cancer."
Be a Curestarter just like Jordan – ENTER TODAY